For Immediate Release
Contact:

Steve Wierenga
steve@ajacs.com
Ajacs Die Sales Corporation
Toll Free: 800.968.6868
A new generation of horizontal hold down clamps!
Ajacs is pleased to introduce a new series of toggle clamps from Destaco. The Series 2013, 2017, 2027, and 2037 offer 2-3 times the capacity of the legacy series 213, 217, 227, and 237 in a slightly larger envelope size. Clamping jigs and fixtures can now become leaner without sacrificing clamp performance. Ergonomic issues such as pinch points, hand clearance, and hitch points with the legacy products have been addressed and solutions incorporated into the many distinctive features of these new products. And although the legacy products will continue to be offered at competitive prices, these new models are state-of-the art solutions.
For more information about this innovative new product, click the image link below for the "Features and Benefits" information or call us at 800-968-6868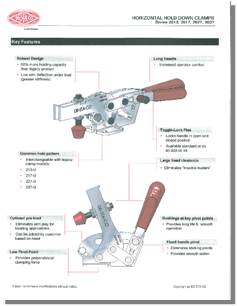 GRAND RAPIDS, MICHIGAN, Jan 18, 2007