For Immediate Release
Contact:

Steve Wierenga
steve@ajacs.com
Ajacs Die Sales Corporation
Toll Free: 800.968.6868
Dayton Progress Updates the TUFFPunch product family with center dowel punches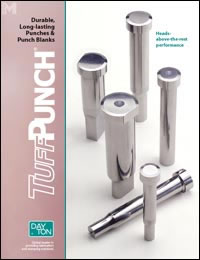 Dayton Progress TuffPunch Punches and Punch Blanks are Kommercial quality products manufactured with thicker, larger, and 10 degree angled diameter heads, and are designed to reduce punch load and significantly lower failure rates when using heavy gauge and high tensile material. TuffPunch products are well-suited for high-demand industries where frequency and heavier-than-normal impact punching activity occurs and where optimum performance is required.
Dayton's TuffPunch product line includes: Dayton Jektole Punches; Regular Punches; Center Dowel Punches; Punch Blanks; and Retainers. Both standard sizes and standard alterations are shown in this catalog.
More information regarding the TUFFPunch product family is available from your Ajacs Sales Representative.